Truchas, New Mexico, USA
---

ancho Arriba is a small farm and elk hunting ranch in the Sangre de Cristo mountains of northern New Mexico. The farm lies at the edge of the Kit Carson National Forest, four miles from the Pecos Wilderness boundary and one half mile east of the village of Truchas.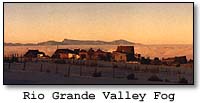 At 8400 feet elevation it affords a spectacular view of the Sangre de Cristo mountains to the east and the Jemez range to the west. The pointed volcano seen from the porch is the Pedernal mesa painted so often by Georgia O'Keefe.





Rancho Arriba offers a rural tranquility and informal charm to those seeking a unique retreat. The hacienda is of traditional "Biblical brick" (adobe) construction with a colonial style courtyard (plaza). The guest wing has viga and latilla ceilings, handmade furniture, and a kiva fireplace.


The bed and breakfast is closed. We only do the ranch hunts now.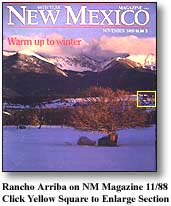 Rancho Arriba
P.O.Box 338
Truchas, New Mexico, USA 87578

E-mail address:
rancho@ranchoarriba.com

No credit cards
FAX and Internet Access Available
Telephone: (505) 689-2374

Additional Information about Rancho Arriba:
(For the Latest News go to the Adventure page) For hunt scenes click here
To visit PS#8 click here