PS#8 Page three
I recently attended the Gilbert and Sullivan movie Topsy Turvy and noticed all the patrons were grey haired (except me of course) which I think nicely illustrates how much quality the schools have given up by forgoing the cultural experiences we had in our generation. Remember?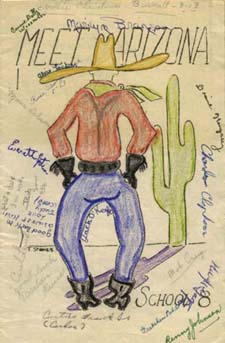 THE EIGHTH GRADES OF SCHOOL NUMBER EIGHT present MEET ARIZONA
An Operetta by G.M.Brown and C.W Cadman
Directed by Ethel M Somerset Eighth Grade Teacher May 10 and 11, 1951 8:00 P.M.
Overture: "Meet Arizona"....Mrs. F Malseptic
CAST: Larry Benson.....Bruce Oatman; Lettie Blair.....Nancy Stewart ;Rennie....Terry Stokes; Emily....Miriam Gisolfi ;Cappy.....Henry Poler; Maria.....Nancy Benedict; Bertie....Bob Semken ;Aunt Lavinia....Laramie Hitchings ;Guldy.....Jack Faling ;Tonita Sunrise....Nancy Ramsey ;Antonio.....Ed Nolan ;Lolita.....Diane Kingsley ;Jim Calder...James Lafferty ;Carlotta....Rosemary Bohjalian; Carlos.....Curtiss Frank ;Tom Wilder..James Garrity
Scene: Dude Ranch in Arizona
Act I: Mid-morning in front of Ranch Act II: Same- evening and following afternoon
COWBOY TRIO Ed Boyce Bob Simon Charles Winn Home on the Range Red River Valley Turkey in the Straw SPECIAL CHORUS Ann Boyer Beth Davenport Barbara Reuss Gail Hughes Rosemary Bohjaliajn Maria Locker Carol Lando Judy Crabtree Roberta Hales Mary Heep Ruth Ann Fowlwell Nancy Ramsay Nancy Benedict Judy Johnston
SQUARE DANCE Gail Hughes Ruth Ann Folwell Harriet Halpin Babbie Ellis Roberta Hales Nancy Wheeler Marla Judge Cynthia Hales Mary Heep Mary Jane French Frances Schechter Marilyn Branson Hugh Gage Fred Stock John O'keefe Bruce Oatman Robert Scott Ernest Levine Charles Lowenthal Terry Stokes Don Rader Henry Poler Alan Stowe James Garrity
TAP DANCE Don Rader
SCARF DANCE Mollie Burnett Diane Kingsley Judith Johnston Carol Lando Barbara Netti Renata Johnson Kitty Davenport
MEXICAN HAT DANCE Carol Lando
MILITARY DRILL Debby Kirkbright Harriet Halpin Frances Schechter Mary Heep Judy Johnston Beth Davenport Joan Van Horne Marilyn Branson Drummers: Roberta Hales Cynthia Hales
COWBOYS AND DUDINES Carol Weber Linda Schmidt Barbara Franco Gretchen Pohlke Emmy Betty Wissman Carol Orr Dorothy Schneider Alice Locker Vernon hall Robert Craig Fred Ohles Evert Epstein Daniel Simpkins Refik Ihsan Charles Clapham William Perry George Smith Allen Young James Keeley Jay Cleveland Marie Dobson
Electricians: Edward Huston, Harold Gabriel,Charles Hawes, Richard Waer Ushers: Dorothy Ahearn,Sue Hanson,Gail LaMarca,Grace Mahoney,Lora Naigles, Pricilla Gardner, Diana Lynch, Carolyn Schneider, Patricia Fennessey, Billie Nigro Cue Girls: Lynda Curtiss, Barbara Fisher,Sue McDowell,Bunny Micolino Prompters: Christino Reilly, Kathy McHugh Scenery Construction: Mr.Robert Diesenberg Art: Mrs.Muriel Shapiro Music: Mrs Alberta Lewis, Mr Edward Feldbauer Military Drill: Miss Selma Broder Spanish Dance and Mexican Hat Dance: Mrs Daniel Lando Accompanist: Mrs Flora Malseptic