Indian Pueblos
---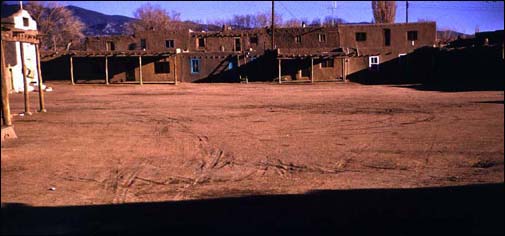 Tesuque Pueblo 1956
There are eight pueblos in the area from Santa Fe to Taos. Perhaps Taos Pueblo is the best known (see "Sightseeing" under ACTIVITIES section), but others have had famous potters or dances,etc. In the summer they combine to hold a large fair with merchandise from all over which is quite interesting. The map shows their several locations. Information on their ancestral Anasazis is treated in Bandelier and the "Archeology "section of ADVENTURE. For a contemporary account see Alphoso Ortiz, The Tewa World.
ACTIVITIES AVAILABLE AT THE PUEBLOS
All the pueblos have arts and crafts available on site. All but Taos and San Ildefonso have camping facilities; all but Taos and

Pojoaque have fishing. Food is available at all but San Ildefonso and Santa Clara and picniking is possible except for Taos. Taos alone has horseback riding, and tours are available there as well as Picuris, Nambe and Santa Clara. Picuris,Nambe,Pojoaque and San Ildefonso have museums; and hiking is possible at Nambe,San Juan and Tesuque. Several have Casinos.



Additional Information about Rancho Arriba:

© 1997 Rancho Arriba Bed and Breakfast